Digital Transformation of the Working World
Digitalisation by far exceeds a mere extension of IT infrastructure in businesses and institutions. It has evolved to be a profound and fundamental societal phenomenon with implications on nearly every aspect of society.
Digitalisation has an effect on nearly every aspect of life: education, health, economy, consumption, mobility, communication; digital transformation is ubiquitous at work and in our private lives. The fast and radically changing Swiss working and professional world is particularly affected. The dissemination of digital, interconnected and highly effective technologies and applications such as intelligent computer systems, robotics, industry 4.0, the internet of things or mobile internet bring about changes whose impact is on par with that of the industrial revolution some 150 years ago. What is the role of humans in the digitalised world? What kinds of skill set count in a digital society? What is the impact of new technologies on work and leadership processes? The «Digital Transformation of the Working World» Interdisciplinary Cluster (IC) is dedicated to this topic area.
As a result, the Lucerne University of Applied Sciences and Arts invests in the development and implementation of interdisciplinary projects revolving around digital transformation in the working world, the interaction of technology and management models, as well as the effects of digitalisation on both individuals and society as a whole. The topic is approached from a holistic perspective to produce sustainable results for the benefit of industry, society and politics alike. Accordingly, specialist teams collaborate across Schools and disciplines: The IC is co-headed by Professor Gerhard Stefan Székely, PhD (School of Engineering and Architecture) and social anthropologist Professor Simone Gretler Heusser (School of Social Work). They are supported by a various experts from the Schools of Engineering and Architecture, Business, Information Technology, Social Work, Art and Design, and Music.
The ITC seeks to highlight paths towards creating a working world that is future-oriented and socially responsible in equal part. It coordinates the collaboration between numerous experts from all Schools of the Lucerne University of Applied Sciences and Arts with a clear focus and mission and, in doing so, generates new work priorities and fields of competence, thereby positioning the Lucerne UASA as a strong partner in both a national and international context.
The cluster focuses on three core issues:
The focus
Technologies for tomorrow's digital working world
Organisation, leadership and human resource management in future-oriented companies
Future-oriented work, professions, and social integration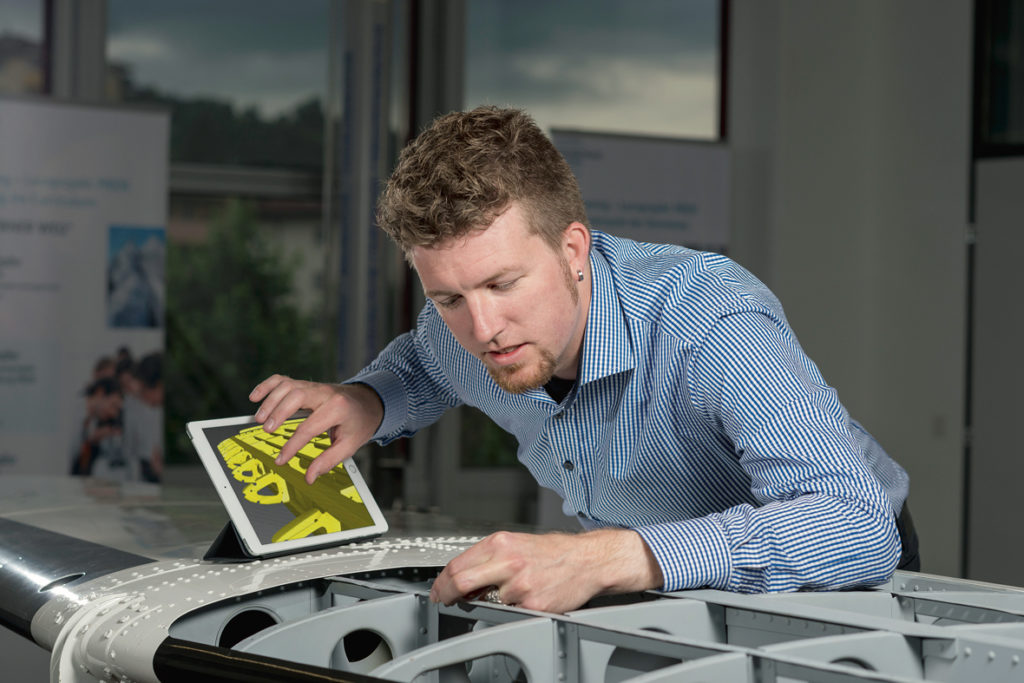 Technologies for tomorrow's digital working world
This focal point revolves around the driving forces of technological change such as sensor technology, robotics, automation, artificial intelligence and servitisation. Aspects of economic efficiency, management and HRM, as well as artistic and social perspectives also play an important role.
The internet of things has a profound impact on tomorrow's working world: products, production sites, warehouses or field installations are connected and autonomously fulfill tasks for suppliers, owners and operators. Machines, electronic components, databases and software are connected with each other within cyber-physical systems (CPS), they exchange data via internet or other networks, and autonomously control and operate themselves. The product-service logic of the internet of things also leads to the emergence of new business models and creates new markets.
Related areas of activity:
Standardisation, reference architectures and communication interfaces in value networks
Development of new management models to successfully address increasing complexity
Enabling employees to cope with complexity and with ever-changing work environments and processes.
Methods and analyses relating to artificial intelligence
Technologies such as mobile assistance systems to support and provide relief to employees or co-workers
Additive production processes
Organisation, leadership and HRM in future-oriented companies
This focal point focuses on leadership and management approaches to managing change in organisations occurring as a result of digital transformations.
The digital revolution will fundamentally change the collaboration within organisations, some of whom will have to completely reconfigure their operations. This change affects matters of corporate design and culture, collaboration, leadership relations and practice as well as the role of Human Resource Management (HRM). It also has an impact on the physical workplace. Employees will have to be flexible in terms of work time and location while the importance of physical communication and team work continues to increase. Alternatives to the corporate office such as home office, remote offices or co-working-spaces are on the rise.
It is imperative that the digital revolution and the related transformation of the corporate and working world takes workers' creativity, ability to solve problems, commitment and willingness to accept change into account and that they are adequately supported in the development of their skills and in the advancement of their careers in a highly flexible and interconnected working world.
Future-oriented work, professions, and social integration
This focal point examines the effects of digitalisation on the economy, on society, on the welfare state, on jobs and business locations, professions, expertise and careers, and on individuals.
Which professions will vanish, which will need to realign themselves? What kinds of skill and expertise will be required? Digitalisation comes with a set of chances and risks for the economy, the working world and the people in it. A certain future-robustness is attributed to professions and fields of activity defined by personal services that are difficult to automatise and which require creativity, innovation, social competence as well as learning ability and adaptability. In addition to social and cultural service professions, they include knowledge-intensive roles assumed by new types of knowledge workers and hybrid professionals with the ability to bridge divides between experts and management and between the analogue and the digital world. Simultaneously, new forms of working activity with increased flexibility in terms of time and location emerge.
Already today, globally connected job markets and platforms such as sharing economy via cloud working and crowd sourcing are introduced. Click workers are being paid per mouse click, irrespective of their physical location. This undermines existing, nation-specific contractual and legislative work and employment regulations. In order to preserve the benefits of the welfare state, new legislation must be passed in response to these new business models. Another expected effect is a further blurring of the lines between work and leisure.
Leitung