We are the first Swiss university lab that deals exclusively with Blockchain, Distributed Ledger and Smart Contracts.
Blockchain Lab in a nutshell
Our goal is to drive education and enhance the knowledge adoption in Blockchain and Distributed Ledger Technologies. With a broad spectrum of competences and a wide network the Blockchain Lab is engaged in both research and education. We bring academics and industry partners together to explore new use cases for Blockchain technologies. Located in the Crypto Valley the Lucerne University of Applied Sciences and Arts – School for Information Technology was one of the first Universities focusing on this disruptive topic.
One stop for education and research
Industry-oriented and applied research
International network
In the middle of the Crypto Valley Switzerland
News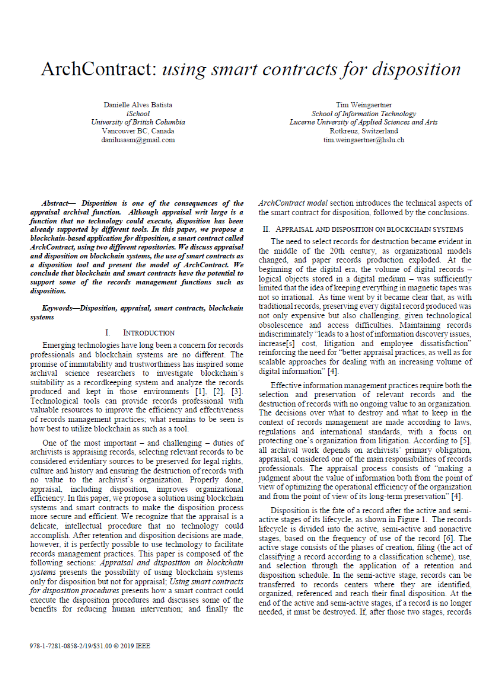 ArchContract: using smart contracts for disposition
Disposition is one of the consequences of the appraisal archival function. Although appraisal writ large is a function that no technology could execute, disposition has been already supported by different tools. In this paper, we propose a blockchain-based application for disposition, a smart contract called ArchContract, using two different repositories. We discuss appraisal and disposition on blockchain systems, the use of smart contracts as a disposition tool and present the model of ArchContract. We conclude that blockchain and smart contracts have the potential to support some of the records management functions such as disposition.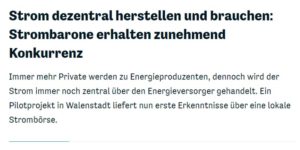 19. November 2019, luzernerzeitung.ch
Strom dezentral herstellen und brauchen: Strombarone erhalten zunehmend Konkurrenz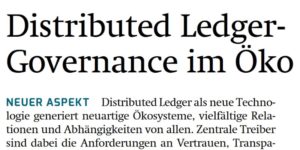 30. October 2019, markenexperte.ch
Distributed Ledger-Governance im Ökosystem
Events
2020 Crypto Valley Conference on Blockchain Technology
11th Jun 2020 - 12th Jun 2020
The 3rd edition of the Crypto Valley Conference will take place on 11th - 12th June 2020 with two days of in-depth discussions on the current state and future of blockchain technology.
The Crypto Valley Conference is organised by us, the Lucerne University of Applied Sciences and Arts in conjunction with the Crypto Valley Association - an independent, government-supported association building the world's leading blockchain and cryptographic technology ecosystem.
2020 International Blockchain Forum
19th Feb 2020
The third International Blockchain Forum is set to focus on the application of Blockchain technology in the service of the Clean Energy sector.
Once again, we will bring together renowned scientists, promising start-ups and successful established companies from Switzerland and our partner countries Great Britain, USA and Canada. The event will take place at one of Switzerland's leading Blockchain research centers in the heart of the Crypto Valley, the Lucerne School of Information Technology in Rotkreuz.
The conference is a premier event for scientists, business representatives, students and other interested parties. It facilitates the dialogue between academia and industry around this topical issue. We will address potential use cases in fields as diverse as energy trading, energy certificates, clean energy production, mobility and others.
Contact
Lucerne School of Information Technology
Campus Zug-Rotkreuz
Suurstoffi 1
6343 Rotkreuz