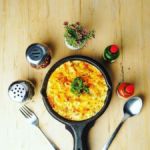 Central Switzerland as a tourist destination caters to a diverse group of guests. In the area of gastronomy, a wave of adjustments has taken place in the past years offering both multicultural menus and interest in local products. But a more complex approach, beyond taste and tradition, catering to sustainable and healthy dietary offers for modern customers as a new business proposal has not yet prevailed, nor has it been systematically introduced in the active tourist context. This project is an investigation the possibility of introducing 'contemporary' healthy eating habits into the tourist and MICE industry where both being up front concerning new trends and staying within an economical bandwidth while catering to large groups are core.
Since 2015 Future Forum Lucerne of the Future Laboratory CreaLab HSLU has been collaborating with the Messe Luzern and as part of this serving food appropriate to the vision and conditions of the Forum itself has been a natural ingredient. In this field the Messe Luzern partners with Tavolago which also caters to HSLU SA with its critical and open consumers. Based on the collaboration we were inspired to review the options for introducing new and meaningful developments in the area of sustainable food (which is also essential for the educational sector) and have become aware of the business opportunity both for the MICE and tourist industry in general in adapting to new cooking and health trends, that can already be observed nearby in Lucerne's RailCity.
Particularly Switzerland, which is attracting and dependent on a sophisticated segment of tourists, should be aware that heathy and 'brainy' food is becoming more important and that this is a demand both to follow and to cultivate. The project brings together some of the major players in the area and investigates their attitudes to a sustainable LEAN catering and test this in concrete contexts.
With the project we seek to initiate a collaboration between selected caterers in and around Lucerne and we to create an example of LEAN (Learning/luxurious/lean, environmental, appropriate, nutritious) catering to the tourist and event context. We are aware that research and development are often that which has the least time in a business pressed by economic factors and we expect the project to inspire the firms to invigorate their offers and exchange about one central core of their business and the impact of LEAN with regards to economics and gastronomic innovation.
Förderinstrument(e)
IS TuNE
Forschungsfeld
Next Economy
Departemente
Wirtschaft (W)
Design & Kunst (D&K)
Soziale Arbeit (SA)
Team
Julie Harboe (W)
Stijn Ossevoort (D&K)
Alex Willener (SA)
Patricia Wolf (W)
Dauer
01.12.2016-01.06.2017