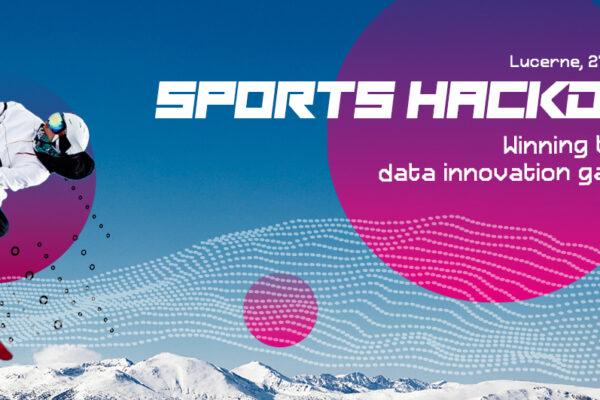 Sports Hackdays 2021 – REGISTER NOW
Hackathons are an integral part of our master's programme. They offer our students the opportunity to elaborate databased solutions for real-life challenges as well as to broaden their network within the Data Science community. Our annual Hackdays are a joint project of our students and external partners. For two days, our students work on exciting thematic challenges, together with challenge owners, the open data community and other external data scientists and data ideators.
REGISTER NOW for the Sports Hackdays 2021
Join us and be a part of the ground-breaking force to make sports innovation happen!
Sport was a disrupted industry before, but the pandemic has accelerated things and the sport industry has to reinvent itself to a certain point. The use of data is one key to give some sports a new face. Data allows a sport to become more accessible to a broader audience as has been demonstrated by the America's Cup. See also our blog post.
The Sports Hackdays are a unique opportunity for sports organisations to meet the sport tech industry, data scientists, and the topic leaders "Sports Data Analytics" in order to discover how they could use data to develop their sports. On the other hand, Sportech companies can present their products and discover what data science can further get out of their data streams.
Furthermore, the Winter Universiade 2021 that is also held in Lucerne just a few weeks later (11.-21. December 2021) can be used as a showcase for newly found data solutions.
Benefits for Sports Organisations
Sports organisations can meet Sportech companies that must demonstrate the usefulness of their data. And see what data scientists and universities can do with the data. They can meet data scientists that they can mandate for their specific data related challenges. The main benefit for sports organisations is that this is hands-on.
Benefits for Sports Tech Companies
Sports Technology companies can demonstrate the value of their product in the most direct way and also meet the data science community as well as universities in order to understand how they can benefit from data scientists in order to understand what potential lies in their data.
Benefits for Data Science Students and other "Hackers"
Sports is a growing and very attractive domain for data scientists. For most this is a unique possibility to get a feeling for this industry and proof themselves as data scientists.

Sports Hackdays powered by: ThinkSport, Swiss University Sports, data innovation alliance Sports Data Analytics Topic Leaders and the MSc in Applied Information and Data Science of the Lucerne University of Applied Sciences. Hochschule Luzern: Applied Data Science

We look forward to seeing you.
Contact us if you have any questions about the degree programme or for individual advice:
Tel.: +41 41 228 42 53 / E-mail: master.ids@hslu.ch
DATA IS THE RESOURCE OF THE 21ST CENTURY!
REGISTER & JOIN US FOR A FREE ONLINE INFORMATION EVENT:
Monday, 16 October 2023, online, English
Monday, 6 November 2023, online, German
Friday, 1 December 2023, online, English

MORE INFORMATION TO THE MASTER'S PROGRAMME HERE:
MORE FIELD REPORTS & EXPERIENCES: Professional portraits & study insights
PROGRAMME INFO: MSc in Applied Information and Data Science
DOWNLOAD BROCHURE: MSc in Applied Information and Data Science Brochure
CHECK OUT OUR: Generalist profile
FREQUENTLY ASKED QUESTIONS: FAQ