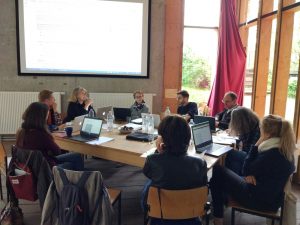 At 16th September 2017, members of the INTREPID COST Action came together in Berlin to work on the draft of a book reflecting barriers and enablers in inter- and transdisciplinary urban research projects. The book will use these case studies to particularly describe how the projects made use of the 'enablers' to createe new knowledge or generate new modes of knowledge production. It will  make sense of how similar projects can reach towards the enablers.
The CreaLab team consisting out of Bettina Minder, Sibylla Amstutz, Christian Lars Schuchert, Alex Willener and Patricia Wolf will contribute a chapter on the Neubad project.
The book will be published in Spring 2018, so stay tuned!