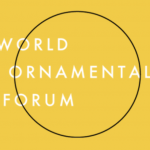 World Ornamental Forum (WOF) is an open work, a spatial essay continuously subject to methodological and thematic changes. The functions of current artistic research, pressing scientific questions, as well as new methodologies are inverted: rather than institutional, they become political. As a work-oriented space and duration WOF is neither a networking platform nor a publication tool; rather it is an incubator for radical artistic and scientific spatio-discursive practices. It offers a structured site for discursive and material reflections of open work. An integrated event, it shows the reviving power of 'the museum of the future' as a profoundly critical place of research.
The call for this years theme is INVERSE STRIKE! – A Call to Continue Working!
WOF makes a global call to continue producing intrinsic meaningful work, from 26 to 29 April 2017 at the Kirchner Museum in Davos; to show the urgency of your work, discuss it, and continue working.
Please send a three-minute video by 1 March 2017 that shows what you are working on. For more information please check here (also available in German). For more information about WOF in the past here.