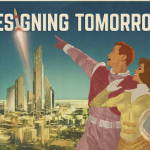 Policy makers, researchers, novelists, designers, activists, tech entrepreneurs, investors and informed and interested members of the public will convene for a joint think tank, Designing Tomorrow, and will address the disruptive impact of digital and technological innovation on geo-politics, governance, social norms, bank accounts, personal relationships and the human body itself.
The event Designing Tomorrow // Über Morgen – Republica & Utopia: A Two-Day Creative Techno-Political Think Tank – took place on December 21st to 22nd, 2016, at the Shenkar College of Engineering, Design and Art | The Kadar Design and Technology Center, in Tel Aviv, Israel.
A desirable 'Future of Work' in 2050?
Science Fiction was the topic which connected most of the participants at the 'Designing Tomorrow // Über Morgen' event. Four workshops had been defined by the main organizers, Geraldine de Bastion and Uri Aviv: Future of the Nation-State, Future of the Human Body, Future of the City and Future of Work. Lars Gaede, Aharon Hauptman and Ute Klotz had been assigned the role of 'facilitators' in order to inspire the participants to think about the future of work in 2050. The topic was a desirable future, not a utopian one which was not particularly easy. They were required to bring up a few interesting and feasible research questions by the end of the workshop. They achieved this goal despite being continually distracted by interesting discussions, the different opinions and the various fascinating ideas of the participants.
Ute Klotz states: ‹I definitely enjoyed these two days. It helped me to reconsider my ideas about the future of work and not to forget the cultural differences. Also, I would like to thank the sponsors for their valuable support and the organizers who made this incredible event possible. I hope we'll work together again, soon, and I am looking forward to see all of you in Berlin this May at the re¦publica 17 in the science:fiction track!›
Here a visual impression of the venue and collaboration: