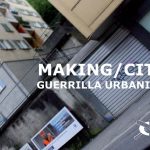 Anlässlich der PechaKucha Night* hielt C. Lars Schuchert vom Kernteam des Zukunftslabor CreaLab eine kurze Präsentation zum Thema «Making/City – Guerrilla Urbanism». Der Vortrag fand am 24. Juni 2016 während der 11ten PechaKucha Night Lucerne, von 20 bis 23:00 Uhr, in der Jazzkantine Luzern, statt.
zentralplus.ch war Vorort und hat die Einblicke in einem Artikel verfasst, welcher hier online zum Lesen bereit steht.
* PechaKucha Night, now in over 800 cities, was devised in Tokyo in February 2003 as an event for young designers to meet, network, and show their work in public. It is a simple presentation format where you show 20 images, each for 20 seconds. The images advance automatically and you talk along to the images.