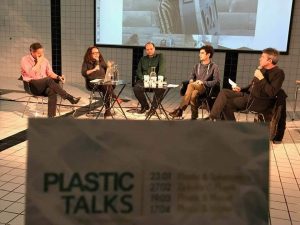 On Wednesday evening, PlasticTwists‹ Swiss Pilot had the first PlasticTalk in the pleasant pool of the Neubad in Lucerne. Our ScienceCafe was a mix of short presentations from the alert and informed panel and discussions in small groups.
PlasticTwist met an amazing audience curious to know about blockchain, tokenomics and plastic! We did get around to an understanding of the blockchain as more than Bitcoin and as a way to create the basis for a dynamic network, where trust is distributed and transactions are transparent. The core of the discussion on plastic as a currency is how we assess the value of that (plus-minus) 6.3 billion metric tons of material now on the planet and still 'growing'. Do the masses of plastic give us the chance to reboot the understanding of finances and return to a global exchange based on resources rather than fictive transaction? The panel represented the serious playful: Denisa Kera presented the giant plastic coin from Lithopia, which you can find on GitHub. The technical: Marius Lombard presented Almery's PlasticTwist solution and Thomas Friedrich Ambitorium's solution to moving goods digitally. And the industrial ‹backend› right now: How the plastic production is being curved to make the linear circular was described in Michele Kellerhals› input.
Mostly everyone present wanted empowerment to take the next step to action. To be a more sensible consumer, to be a good recycler, to raise a voice to the producers to take responsibility and understand that we must pull all ideas together to twist use and production. Here is what the audience proposed:
It should be easy to reduce plastic use!

Have your own bottle!

A personal plastic account – use the token for that?

Don't leave it up to to the consumer – let the polluter pay/organize

Rethink the supermarket!

Raise awareness – use the token for that!
The PlasticTalks are part of the research project «PlasticTwist» funded by the European Commission in EU Horizon 2020. For more information on the PlasticTalks contact julie.harboe@hslu.ch
Here you find information about the next PlasticTalks: http://fablab-luzern.ch/plastik-talks/