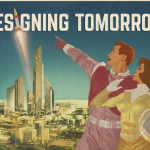 Policy makers, researchers, novelists, designers, activists, tech entrepreneurs, investors and informed and interested members of the public will convene for a joint think tank, Designing Tomorrow, and will address the disruptive impact of digital and technological innovation on geo-politics, governance, social norms, bank accounts, personal relationships and the human body itself.
The event, Designing Tomorrow, takes place on Wednesday, December 21st 2016, from 09:30 am to 06:00 pm, at the Shenkar College of Engineering, Design and Art | The Kadar Design and Technology Center, in Tel Aviv, Israel.
Ute Klotz has helped the team as a facilitator and she will be part of this event. As a core team member of the Future Laboratory CreaLab, she is interested in trends related to the labour market and its future scenarios. This also includes the understanding of how organizations can utilize Information Technology to support employees in their work, as well as in their health and well-being. Since 2010, she has been involved in the activities of unions and non-governmental organizations, which concern educational issues and working conditions for employees in Higher Education Institutions. She has authored The future of work – in the past of Science Fiction.