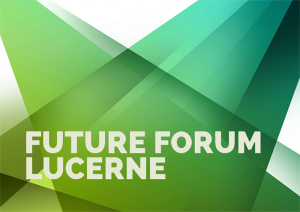 In einigen Wochen findet das zweite Future Forum Lucerne statt. Nutzen Sie die Gelegenheit zur Anmeldung zum Preis von CHF 655.– einschliesslich Abendevent. Das Abendevent sollten Sie nicht verpassen, wir werden auf Powerort Bürgenstock sein und das exzellente Essen von Laureen Wildbolz geniessen. Future Forum Lucerne ist zweisprachig Deutsch und Englisch. Wir freuen uns, Sie an diesem spannenden Event willkommen zu heissen.
In a few weeks the second Future Forum Lucerne takes off. Use your chance to register for CHF 655.– including the evening event. This should not be missed, as we will be at Bürgenstock, the power location above Lake Lucerne, and experience truly empowering food by Laureen Wildbolz. Future Forum Lucerne is a bilingual event in German and English. We look forward to seeing you at Future Forum Lucerne, which is a bilingual event in German and English.
Anmeldung/Registration: www.hslu.ch/futureforumlucerne
Auf Facebook könnt Ihr nun auch Eure Bekannte und Freunde einladen. Bitte verwendet den Hashtag #FutureForumLucerne für Veröffentlichungen auf Social Media – Herzlichen Dank!
Online ist nun auch ein kurzer Film zu den Impressionen des Future Forum Lucerne 2015, check it out.
Also, invite your friends and collegues on Facebook. Please use the hashtag #FutureForumLucerne for social media publications – Thank you!
Check out the Impressions from last year's Future Forum Lucerne.