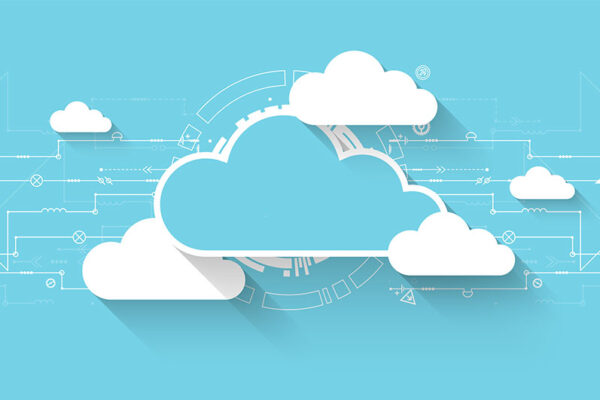 Professional Portrait of a Data Scientist
Professional Data Science portrait with Cornelia Gruber: Digital Solutions Engineer
Our former HSLU and Applied Data Science student Cornelia Gruber spends her challenging workday in Barcelona at VMware in the role of a "Digital Solutions Engineer". The hashtag #goforthegoodlife! aptly describes Cornelia in her fun-loving nature. In addition to Data Science, she loves the finer things in life such as coffee, music and theater. Her goal is to constantly develop and strive for the best version of herself. Read more about Cornelia's professional life and exciting review of her studies with us.
Shortcuts: Interview – Info-Events – Programme Information – Contact – Professional Data Science Portraits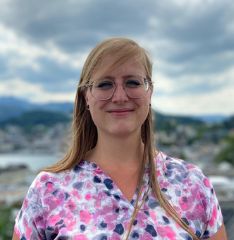 First of all, tell us something about yourself: Which hashtags describe you the best?
#goforthegoodlife! and #everythingisrelative
Tell us a bit more about them:
Life isn't always easy, and we can't control much of what happens to us. But we can always keep a sense of humor and stay flexible. I think we should make those things in life that are in our control as enjoyable and fun as possible.
What I mean with #goforthegoodlife!: Find out what makes you happy and what you really enjoy, see as much of the world as possible, and never stop being open and curious – and to learn, think critically and make time for the beautiful little things in life. Good coffee, loud music, theatre, nature, Hermann Hesse, and wreck diving are at the top of my list 🙂 For me, this also includes constantly developing and striving for the best version of myself. You have to realize your goals and dreams now – change never happens by itself.
#everythingisrelative is my view of science and epistemology, a mix of categorical imperatives and critical rationalism that has shaped my whole life. Natural science essentially is about operationalizing: Making things measurable always means seeing them in their context. Therefore, we can only ever make probability statements that have fuzzy borders and an error likelihood proportionate to their context and to the scale we're using. Science can answer only those questions that we ask, and we have no way of ever knowing whether they were the right ones. In other words, everything always remains relative.
Now let's talk about your professional life: What do you do at VMware?
I started there in Barcelona this year, as a Digital Solutions Engineer Graduate in the Digital Sales Center for Europe. It's a graduate programme in which future VMware solution engineers from all over Europe can optimally grow into their roles. As solutions engineers, we are our customers' trusted advisors and help them to find the right technologies and solutions for their needs. This of course means having good technical knowledge of VMware's solutions, because we have to explain and demonstrate them in customer calls and select the right ones for each customer from a pretty large range of options. They include solutions for data center virtualizations, end-user computing, hybrid/multi-clouds, virtual cloud networks and security, all the way to app modernization and Kubernetes. Learning about all this takes time and practice, which is why VMware has a graduate programme where we get lots of training and exercises to study the solutions and prepare for customer calls. And we have the opportunity to specialize in certain topics and become certified. Since it's a graduate programme, we also have enough time and capacity for further education and personal development, among some other pretty nice benefits.
What did you do previously and why did you join VMware?
After my BA in psychology, I first did an MA in neuropsychology but soon realized that I didn't want to work as a neuropsychologist. I always wanted to be a neuroscientist and contribute to brain and consciousness research. I then became interested in brain-computer interfaces and neurofeedback, which made me really want to programme and learn all about AI. That's how I ended up doing the MA in Applied Information and Data Science at HSLU. Studying psychology helped me to better understand how people tick and what it basically means to be human. While doing the MA in data science, on the other hand, I learned how the digital world around us is built and how it works. Not only that, but I also learned how our new tools and technologies can improve our life, why data is the resource of the 21st Century, and what enormous potential it harbors. I love data science and machine learning and am fascinated by computer science, cloud characteristics, containers, distributed systems and storage architectures, stream processing, data warehousing, and ETL / ELT concepts – everything that concerns data engineering and big data. At VMware, I can now apply everything I learned at HSLU at once because I'm in the company's group for Machine Learning and Modern Apps and thus know the challenges of Data Science and Machine Learning that our customers as users face.
Tell us about the most exciting thing in your job.
I don't just work as a data scientist or as a data or machine learning engineer for a company in a specific field; instead, I can work on many levels with very different clients from different industries. I believe in the digitalization and democratization of AI and machine learning, and I can actively contribute to this field. Solution engineers also produce webcasts and train colleagues working in solution engineering and sales, and VMware has its own annual conference where we present innovations. In other words, I have a varied job profile, something that's very important to me. And I like being able to develop myself independently in all directions. VMware also has a lot of partnerships, so as a member of the machine learning group I can attend NVIDIA conferences, for example, and learn about the technical sides of deep learning and GPUs.
Which data science skills are especially in demand in your job?
Besides problem solving, I find everything about big data and advanced analytics to be incredibly relevant. At HSLU, we learned to become generalists in data science, which is exactly what makes this MA programme so perfect and sought-after. We pretty much did everything once: design thinking and data visualization, technical programming, building a data pipeline, training ML models, and tinkering with VMs in our own cloud. I think this is unique in an interdisciplinary MA programme at such a high level in terms of its technical and general content.
Do you think of yourself more as a techie or as an analyst? Or as a creative genius, management superhero or generalist wiz?
That's a tough question. I think I'm more the all-rounder, without the "genius" bit 😉
What do you remember the most when you look back at your time in the MSc in Applied Information and Data Science programme?
This marks the first time in my studies that I really understand how our digital world actually works. I think what we learned in the MSc in Applied Information and Data Science programme is pretty much what holds the business world together at the core: from databases to integration of in real-time, from information from applications to statistical analyses of model-generated and data-driven predictions – we all are doing it because we all need it.
I've always been fascinated by statistics, but programming, and especially Python, has taught me an awful lot about logical and analytical thinking. But my absolute favorites were the Big Data Labs, Data Engineering in the Cloud, as well as the specializations in Deep Learning in Computer Vision, and the NLP and Recommender Systems courses. For me, the whole last year of my studies was truly an intellectual paradigm shift, and I earned more credits than I would have needed because I didn't want to miss any of the courses and inputs.
And working in different groups, such as during the Hackdays, where we teamed up with Luzern60plus, as well as the opportunities we had to participate in the Open Data Science Conference in London, were absolute highlights. As you can see, I'm still excited about the programme. 😀
What are the biggest challenges in your job at the moment?
VMware has defined company values as its guiding principles that we all need to follow. One of them is integrity, which means that we solutions engineers, as trusted advisors, must always regard our customers' interests and challenges as the first priority.
What I appreciate about VMware is how quickly and creatively it responds to new challenges that come about when our customer's interests change and how it adapts its business models to meet those challenges. Trends in recent years have led it to expand its partnerships with all major public and countless small cloud providers and to offer subscription-based pricing models with universal credits for many fields. I believe that as long as you can identify such trends early on and respond to them, you can stay competitive.
What advice would you have for others starting in the same job?
Build your networks, ask lots of questions, always keep an open mind, and stay flexible. In addition to being proactive, willing to learn and disciplined, I would also advise everyone to first take as many courses as possible on whatever topics are being offered, especially HSLU's course on interview training for data scientists. After all, I think my LinkedIn profile was one of the main reasons why VMware found and recruited me – rather than me applying for the job. I would never have come up with the ideas for my LinkedIn profile and CV unless I had taken that cool course by the Propulsion Academy. So, thanks again for that too!
And finally: What new hashtag are you aiming for in 2022?
I'd love to get back into some machine learning competitions and literary contests to challenge myself mentally. In my personal life, I want to finally make it to Komodo National Park to see the Komodo Dragon in real life. And to dive as much as I can 🙂
Many thanks to Cornelia Gruber for this interesting interview and the insights into your job and studies!
DATA IS THE RESOURCE OF THE 21ST CENTURY!
SIGN UP & JOIN US FOR A LIVE TALK INFORMATION EVENT:
Monday, 17 April 2023, Online, English
Wednesday, 10 May 2023, Online, German