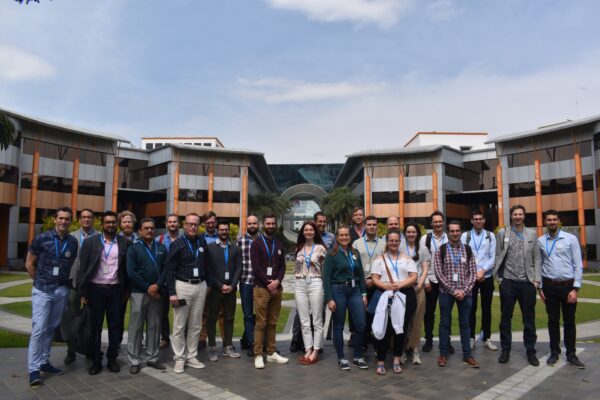 Applied Data Science Study Week
Applied Information and Data Science – Study Week in Bangalore, India
How exciting! A group of our Applied Information and Data Science students have landed in Bangalore, India, in order to go on a one-week-study tour to "Electronic City". Thanks to it, Bangalore is worldwide known as a vibrant innovation hub. They were accompanied by Prof. Dr. Andreas Brandenberg (Head of Programme), Prof. Dr. Andreas Liebrich (Deputy Head of International Office) and Oliver Staubli (Lecturer). Dive into our Diary to feel the breathtaking Indian culture and get with us in touch with a bunch of data-science-related companies and their high-class representatives, as well as with local people. Enjoy reading.
Shortcuts:
Part 1 Bangalore | Part 2 Holy Temples & Botanical Gardens | Part 3 speaking avatars | Part 4 Meeting "Boschers", tigers & new friends
Info-Events | Programme Information | Contact
PART 1: Bangalore – here we come!
Dear Diary, you've certainly heard of the "Electronic City", haven't you? India. –> Bangalore – THE vibrant innovation hub worldwide. It is one of India's largest IT industrial parks, spread over 3.2 km² in Konappana Agrahara and Doddathogur villages. But did you know that it includes about 200 IT company campuses and even universities, for example the JAGSoM University (Jagdish Sheth School of Management) which is our host. It is a smaller business school with quite a strong business analytics department.
So, on my first days in Bangalore, I have met my local partners and can sum up that two things are absolutely fantastic here: A campus surrounded by greenery. Bangalore, as a whole, is considered a green city with decent temperatures all year long. In beginning of February, our students may expect low humidity, a lot of sunshine, no or few rainfalls, and temperatures between 24 and 32 degrees at noon.
But JAGSoM has a lot more to offer. For example, they have a great social service learning system, which means that students go out into the 13 million city and teach young people without access to the (official) school system or provide their knowledge to non-profit organisations. This culture is strongly influenced by Jagdish Sheth, Sanjay Padode and Atish Chattopadhyay, the three leading members of the directorate @JAGSoM. I was lucky to meet all of them and have the privilege to do so several more times during our stay here in Bangalore. They are fascinating personalities with social leadership philosophy, which appeals to me a lot.
Furthermore, there is a wonderful spirit on campus. I have met three young female bachelor students. One of them, Shikra, showed me around the campus. In India, there is a kind of minimum standard for university lecture halls. The school has purposefully equipped some rooms this way so that students can stay "grounded" and exercise their privilege.
The next days will be exciting. On Sunday, we will go on an extended city tour and on Monday we will meet expats from Switzerland. In the evening, there will be a dinner reception on the roof of the Counsulate General of Switzerland with more than 80 invited guests, all of whom will play a crucial role in the study week. I am looking forward to it!
In the upcoming days, you will be updated of how it's going. 😊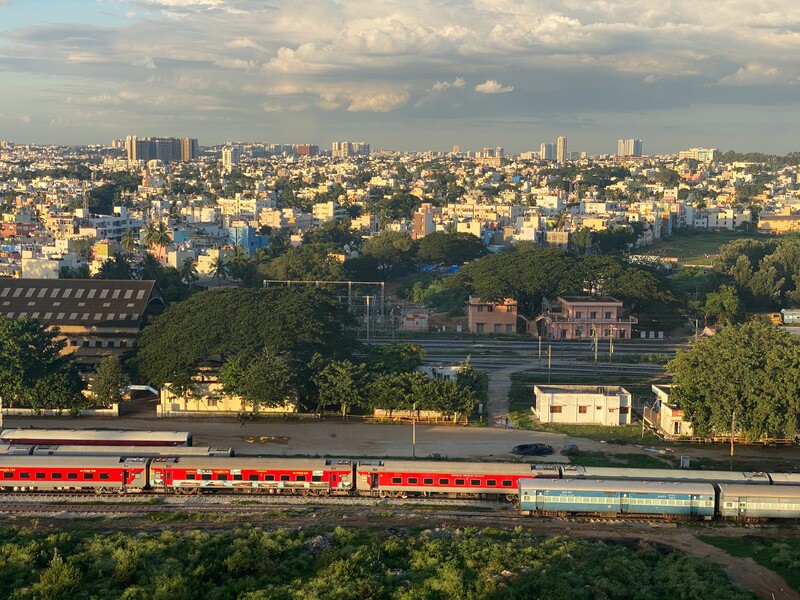 Part 2: Between Holy Temples and Botanical Gardens
Dear Diary, finally our group of Applied Data Science students has safely arrived in Bangalore. In the evening at 7 pm, after passing the immigration section and changing our SIM cards (data is unbeatably cheap in India), we have checked in to the Lemon Tree hotel in "Electronic City" and enjoyed a fine Indian meal. The next day started early with a beautiful sunrise. We've had breakfast with some Business Analytics students from @JAGSoM University (Jagdish Sheth School of Management). Afterwards, a yellow bus, built in 1950, took us to the hostel of the Bachelor students – young, curious and bright Indian people who welcomed us very warmly.
Together, we went on a sightseeing tour to the Dodda Basavana Gudi, one of the oldest Hindi temples in Bangalore (photography prohibited) and from there to the Lalbagh Botanical Garden being a home to many beautiful plants. Having just escaped the winter in Switzerland, we perceived the colors and smells even more intensely. At the end of the garden tour, there was time for an extended and very delicious Indian lunch.
Living and working in India: Bühler Group, Swissnex and more
What a day! On Monday, we went to Bühler Group, a Swiss family business in the fifth generation specializing in high-precision process technology. This hidden champion is virtually unknown to most people because the company is exclusively in the business-to-business sphere. Yet, we consume products made on Bühler machines every day.
For example, most of the world's pasta is produced by Bühler equipment, most of the world's grain is processed on Bühler's mills. Countless people wear eyeglasses, use smartphones, and read newspapers and magazines – all of which depend on Bühler process technologies and solutions covering our basic needs for food and mobility every day. Having this global relevance, Bühler is in a unique position to doing its part to protect the climate and reduce energy, waste, and water in its customers' value chains by 50% by 2025. Bühler's purpose is creating "innovations for a better world."
So, what started out as a harmless company visit turned into an absolute highlight for us. In a rarely impressive presentation, Prashant Gokhale (President Buhler Group, Region South Asia and Managing Director), Venkatesh Kumar (Head of Human Resources & Administration) and Sunil Ranade (Head Strategy and Business Development) gave us very concrete examples of how Bühler is contributing to a more sustainable agriculture in India.
Agriculture and food production consume nearly 2/3 of the energy produced and an equally high proportion of water. Technological advances in this area therefore carry a lot of weight. And invariably, Data Science and AI play an absolutely central role. Correspondingly, we had a very lively panel discussion as the topic fascinated us highly.
Roof Top Party: Meet and Greet with corporate and academic representatives
This highlight was followed by the next: In a typical Indian restaurant, we met Jonas Brunschwig and the crew of Swissnex in India, Consulate General of Switzerland. Jonas is the Consul General and the CEO of Swissnex, the Swiss innovation and research hub in India.
We learned what it means to live and work in India, not only from the perspective of the (mostly) highly privileged expats, but also of the local people here. In the evening, we had the pleasure to attend a "Roof Top Party" at Jonas' residence and to meet all the corporate and academic representatives from the Indian Institute of Science (IISc) Bosch, Dell Technologies, NASSCOM, and more – all playing a crucial role in our study week. I am just absolutely blown away by the warmth and openness of our Indian friends. We are very lucky to have the chance to meet professionals from various application areas of data science and gain insights into Bangalore's stunning data science ecosystem!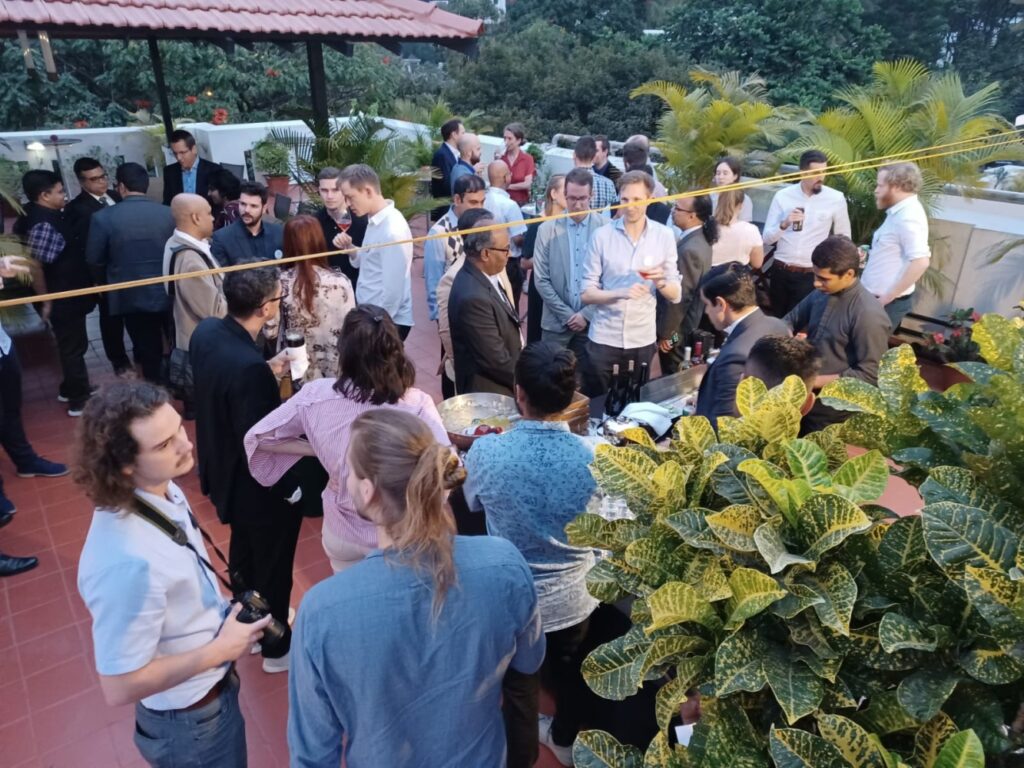 Part 3: Meeting speaking avatars on futuristic campuses
Dear Diary, did you know that the success story of Bangalore is inextricably linked with Infosys?
To my shame, I must confess that I didn't know this company for a long time. Only created in the early 1990's, Infosys has grown in less than 40 years from a garage company into a giant with over 300,000 employees and $17 billion in revenue. Infosys' mission is Business Acceleration, which means they help companies, organizations and institutions transform digitally from within.
By the way, one of the founders of Infosys is Narayana Murthy, the father-in-law of British Prime Minister Rishi Sunak. We didn't care about big politics, though. We wanted to know how Infosys works. And, of course, we wanted to explore the Infosys campus by which we were simply left breathless.
Better people's lives thanks to Artificial Intelligence: IIIT makes it possible
Just across the street is the International Institute of Information Technology Bangalore (IIIT) located, the first ever institute of this kind in India. Having a chat with the Dean (R&D) and Professor at IIIT, Srinath Srinivasa at the Roof Top Party the night before, I had arranged our spontaneous visit to the IIIT the next day. Srinath had invited six professors and startup founders who gave us a fascinating insight into its projects.
IIIT does exactly what has always interested me most about Data Science: they combine social research with high-end information technology in order to improve people's lives. Just one example: They have developed a system that translates spoken or written language directly into sign language and vice versa. Deaf-mute people can thus talk to anyone via an avatar – not just people who know sign language. Another project is based on self-explanatory Artificial Intelligence – software that explains why an algorithm comes to a certain result. This is a very important project because many people do not trust Artificial Intelligence, because they don't understand what it actually does.
In the evening, we were invited by the faculty of our partner university, the Jagdish Sheth School of Management to a welcome dinner in a hotel bar. There was lots of laughter and lively discussions until late at night. At some point, I raised the white flag and went to sleep. My students must have had the longer run. 🙂
Why is India so innovative?
My preliminary conclusion: Because researchers in India like to share knowledge, ideas and experiences and are more interested in joint success than in personal glory. And when this is done by researchers from a population of 1.4 billion people who want to improve their lives and who are looking for perspectives – not only for themselves, but also for their families – then great things can happen.
Today, we had the opportunity to visit NASSCOM, an innovation incubator that serves around 10,000 startups. We learned that India's technology miracle is not only due to the sheer size of the country (or rather continent), but also to a clever funding strategy.
Innovations take place not only on a large, but also on a small scale such as the smart medicine dispenser, the smart washroom or the smart "Healthometer" which measures seven important health values (including blood pressure, blood sugar and blood fat – without needing any blood). How does it work? The answer is sensor technology and Artificial Intelligence. And what's always very important in India is that the products must be inexpensive.
Contrasting sceneries and aromatic Whisky tour
What always fascinates me in Bangalore is the rapid change of scenery. On a poorly paved street corner, a fish seller can be offering his wares on the loading deck of a three-wheeled Vespa, and a few steps later you'll find yourself in a high-tech center.
In the afternoon, we were invited to visit the Amrut Distillery. This distillery produces, among other things, a wonderful Single Malt Whisky that enjoys world renown. That's impressive as South India has (had), in contrast to North India, no whiskey tradition in the past. The tour through the distillery was unique. First, we were allowed "to stick our noses" into every fermentation pot – quite different from what one is used to in other (sterile) tours. And secondly, the Amrut Distillery does a lot by hand because they want to guarantee a regular income for as many people as possible.
Fun Fact: We are happy to be accompanied by our Indian friends on our tour almost every day. This time, it was Yothi and Tuhin. We are looking forward to more adventures!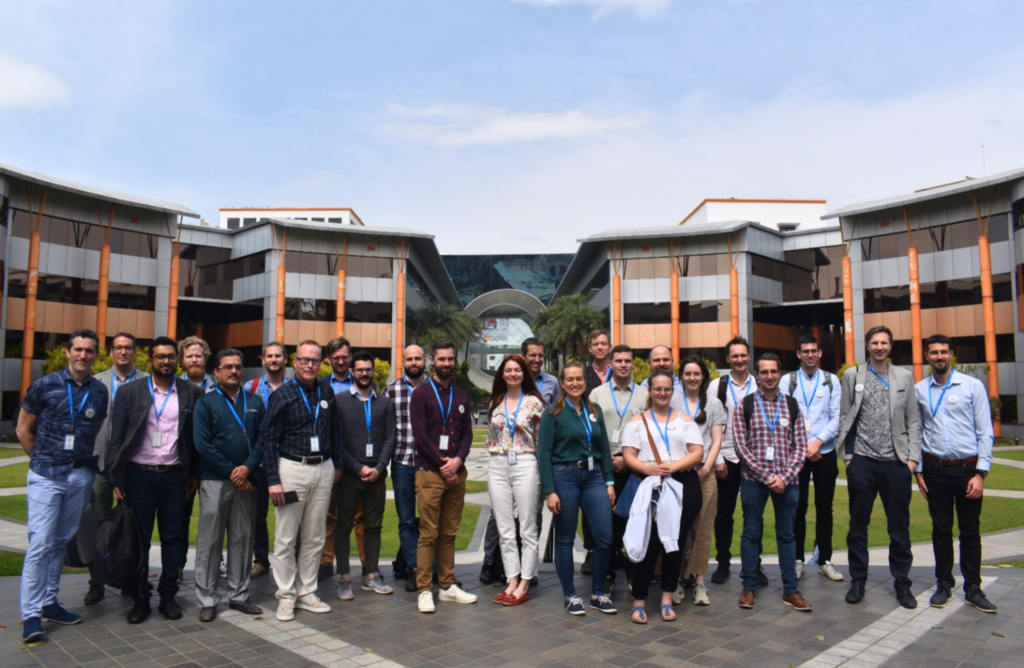 Part 4: Meeting "Boschers", tigers and new friends in Bangalore
Visiting world-renowned research institutions and a traditional company that is so much more than it seems
Dear Diary! Here we go again. The first part of our Study Week in Bangalore is over and we dive into the world of world-renowned research institutions. On Thursday, we visited the Indian Institute for Human Settlements (IIHS), for example.
The institute is well known in connection with the UN's Sustainable Development Goals. It is mainly concerned with the sustainable development of cities – a particularly important topic considering that soon 2/3 of humanity will live in cities, often unfortunately in very precarious conditions. By the way: the presentation took place in the same conference room where, just over six years ago, Standard 11 ("Sustainable Cities and Communities: Making Cities and Settlements Safe, Resilient and Sustainable") had been signed.
Not far from the IIHS, you'll find one of India's most prestigious research and educational institutions, the Indian Institute of Science (IISc). The founder and director of the Center for Supercomputing and Data Science, Prof. Sashikumaar Ganesan, gave us insights into some projects. Furthermore, PhD students presented their technically challenging projects and methods (e.g., integration of mathematical and algorithmic methods). The humility and competence of the students, some of them very young, was impressive.
Are you a "Boscher"? Visiting the Bosch Smart Campus
The last station of our day was dedicated to Bosch. Bosch maintains a state-of-the-art development center in Bangalore with several thousand engineers, software specialists, data scientists, and so one. Most of you probably know the Bosch company as a supplier of hand tools. But this is only a very small part of its product range. Bosch products have a more or less great impact on our everyday's lives – in most cases unknowingly.
For over a hundred years, Bosch has been active in India and we had the chance to meet some representatives of the second and third generations of "Boschers" – as they affectionately call themselves.
The company is strongly value-driven and embraces its responsibility to people and the environment. For example, they identify themselves strongly with the 3 P's: "Profit, but not at the expense of the People and the Planet". Moreover, Bosch maintains a Mobility Think Lab that works on solutions to mobility issues in the rapidly growing Bangalore (+13.6 million inhabitants).
Fun Fact: If you ask someone where Bangalore's centre is, everyone will smile and reply: "It's moving".
Bosch also operates an innovative workplace management system that saves considerable resources such as space, water and electricity without reducing the comfort and well-being of its associates. This concept could actually be implemented anywhere. In my opinion, this is a great example of how using intelligence can contribute to sustainability.
On Friday, our students had the opportunity to choose between three companies to visit: Dell Technologies, LatentView Analytics and JCPenney India. Full of impressions they returned back to the Lemon Tree Hotel where we had checked in earlier this week and spent the evening with some music and dance.
"The tiger is loose"
Our last day in India was dedicated to the king of the Indian fauna, the Bengal tiger. In a minibus, we meandered on bumpy roads through the picturesque Southern Indian landscape. Our destination? The Bannerghatta National Park. Here, the wild animals move completely freely in a very extensive area. The big predators like lions and tigers, elephants and bears are separated from each other by an extensive fence system. We felt like we were on a safari. India also has an incredibly diverse flora. I really soaked up the colorfulness of the blossoming trees once again before heading back to cold climates.
In the afternoon, we had a hackathon at Jagdish Sheth School of Management (JAGSoM University) together with some advanced students. A hackathon is a small competition in which students try to solve a prediction problem. We deliberately worked with mixed teams (HSLU/JAGSoM). The most important thing about the whole exercise was the collaboration in an intercultural context – and the students did an excellent job!
Saying goodbye to new friends
In the evening, it was time to say goodbye to our hosts from JAGSoM University. We were invited to a big dinner and it was again a very warm and cozy evening with our new Indian friends. It is impressive how open, curious and benevolent our hosts were. On Saturday evening, we went early to bed because we had to leave the hotel at 4 am to reach our flight back home to Switzerland. And for now I can definitely say that I will come back to India with a group of students.
DATA IS THE RESOURCE OF THE 21ST CENTURY!
REGISTER & JOIN US FOR A FREE ONLINE INFORMATION EVENT:
Monday, 16 October 2023, online, English
Monday, 6 November 2023, online, German
Friday, 1 December 2023, online, English